Phenomenology of fate signs. Part I
Keywords:
philosophy in Ukraine in 1960-1980s, German philosophy, Husserl
Abstract
Interview of Vlada Anuchina, Yana Dziuba and Yana Gorobenko with Yevhen Prychepii.
References
Chaika, T. (2014). Interviews with Vilen Horskyi. Philosophical faculty. [In Ukrainian]. Filosofska Dumka, (1), 111-126.
Gorak, G. (2009). Sorok sorokov. [In Russian]. Kyiv: Stylos.
Korzhyk, R. (2019, February 4). Corn monster. Oddities and adventures of the Soviet dictator Nikita Khrushchev. [In Ukrainian]. Artifact. https://artefact.org.ua/history/kukurudzyaniy-monstr-divatstva-ta-prigodi-radyanskogo-diktatora-mikiti-hrushhova.html
Prychepii, E. (2015). A word about a person dear to me. In A. Naychuk & S. Volkovynskyi (Eds.), Philosophical methodology in modern education (dedicated to the memory of I. P. Yurishynets). Proceedings of the All-Ukrainian Scientific Conference on November 19-20, 2015 (pp. 11-16). [In Ukrainian]. Kamianets-Podilskyi: Kamyanets-Podilsky Ivan Ohienko National University.
Shurkhalo, D. (2021, January 31). 60 years ago: how the USSR lost the battle for the harvest. [In Ukrainian]. Radio Svoboda. https://www.radiosvoboda.org/a/ussr-khrushev-import-zernovykh/31078997.html?fbclid=IwAR3tpiRb7BQEeT_4cCiqvSKBh5ePDvFpx3Ebah90_kjyOU5DXwCf0B80r44
Viatkina, N., Kkhelufi, A., Myroshnyk, K., & Reva, N. (2020). «The saved and the lost». Attempt to recall on-line. [In Ukrainian]. Sententiae, 39(2), 226-240. https://doi.org/10.31649/sent39.02.226
Yolon, P. (2012). Personality changes the epoch. [In Ukrainian]. Filosofska Dumka, (5), 26-38.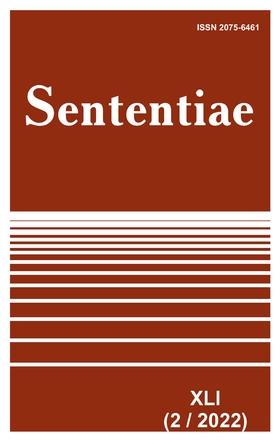 Abstract views: 44
How to Cite
Prychepii, Y., Anuchina, V., Dziuba, Y., & Gorobenko, Y. (2022). Phenomenology of fate signs. Part I. Sententiae, 41(2), 208–234. https://doi.org/10.31649/sent41.02.208
License
This work is licensed under a Creative Commons Attribution 4.0 International License.
Authors who publish with this journal agree to the following terms:
Authors retain copyright and grant the journal right of first publication.
Authors are able to enter into separate, additional contractual arrangements for the non-exclusive distribution of the journal's published version of the work (e.g., post it to an institutional repository or publish it in a book), with an acknowledgment of its initial publication in this journal.
Authors are permitted and encouraged to post their work online (e.g., in institutional repositories or on their website) prior to and during the submission process, as it can lead to productive exchanges, as well as earlier and greater citation of published work (See The Effect of Open Access).